Joomchi & Beyond with Jiyoung Chung
In this workshop students will explore Joomchi, a unique Korean traditional way of making textured handmade paper using water and eager hands. You will discover its history, practice and role in Korean society, as well as learning the hands-on techniques and reinterpreted adaptations into a contemporary art form. Joomchi creates strong and painterly textured surfaces by layering and agitating Hanji (Korean mulberry papers). Its usage is diverse and can be incorporated into surface design, collage, new ways of drawing, or for wearable, unconventional body ornaments. Joomchi can also be used as 2D and 3D sculptural objects that are functional or fine art oriented.
All Levels
Non-members $410 / Members $400  
Proof of vaccination is required for our Studio Schweinfurth programs. Please email proof of vaccination to mail@schweinfurthartcenter.org
About the teacher: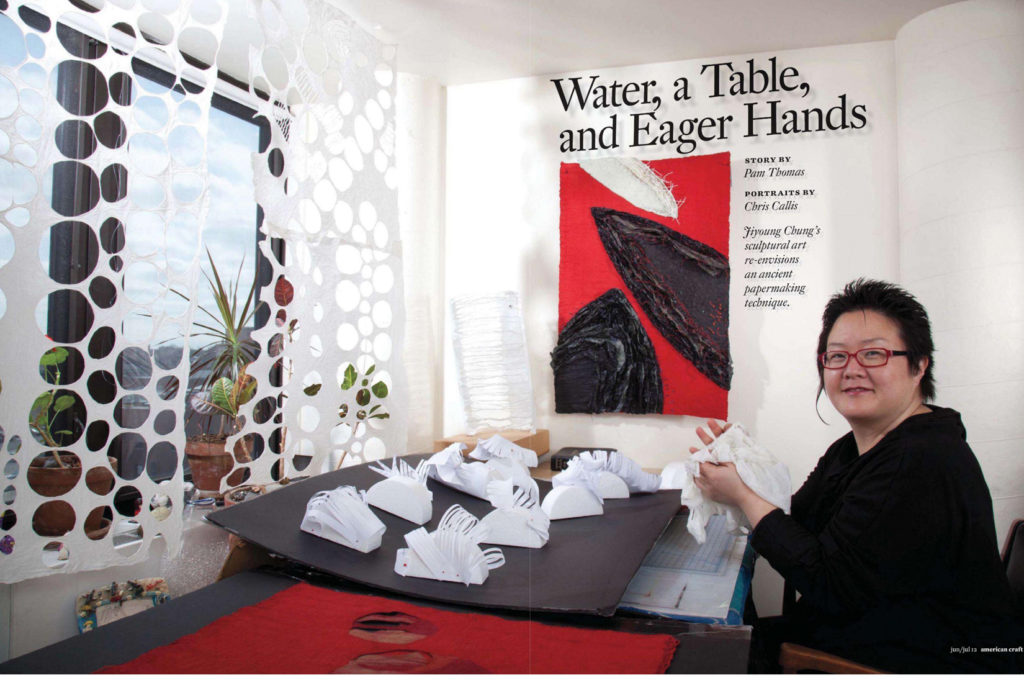 Jiyoung Chung is a Joomchi artist, painter and freelance writer who shows her works nationally and internationally. She has developed an innovative method for utilizing a traditional Korean method of papermaking called Joomchi into contemporary art form.
Jiyoung (B.F.A., Painting from RISD, and M.F.A., Print/Media from Cranbrook Academy of Art) has had numerous solo shows (32 times) in Korea, U.S.A., Australia, France, Finland, Romania, and UK. In 2010, she curated the Int'l Korean/ American Joomchi show for European Patchwork Meeting in France, later toured in Korea(2010/2011/2014/2016) and in America(2012, 2015).  She authored a How-to-Do book titled "Joomchi & Beyond". She was awarded several times; including 'Gold Award' by Smithsonian Craft Show, Washington, DC (2019), 'Award of Excellence' by American Craft Council/Baltimore show(2012) and Adrianna Farrelli Prize, 'Excellence in Fiber Art' by Philadelphia Museum of Art Craft Show(2012), and Silver Prize at The 8th Cheonggju International Craft Competition, Korea(2013). Her works are in the permanent collections of Fidelity Corporate Art Collection, Boston and Museum of Art & Design, NY.